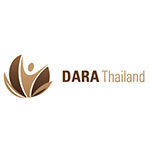 Details
DARA believes that everyone should have access to affordable and effective rehabilitation, and offer affordable luxury rehabilitation solutions – so affordable that people find it more cost-effective to fly to Thailand for a 4-week program than to undertake drug and alcohol rehabilitation in their own countries. Located in two of the most serene settings imaginable, our clients also enjoy far greater privacy, allowing them to decide for themselves whether or not to tell others about their decision to take this important step.
DARA provides the highest level of professional international-standard care, luxurious accommodation, a higher staff/client ratio than any other rehab, fabulous food, unique excursions, and a comprehensive physical therapy program.
Stemming from their personal desire to 'give back', and help those who are ready to begin the journey of recovery, DARA's founders subsidize our all-inclusive treatment program.
DARA is a member of the long-established National Association of Addiction Treatment Providers (NAATP), and employs only full-time internationally certified addiction and mental health counselors, each an expert in his or her area of specialization.
The program starts with physical health and de-stressing. The physical program includes regular Thai massage, a physical activity program tailored to the client's individual capacity and excellent healthy and nutritious food. Mentally we focus on mindfulness and meditation with several sessions each week. The specialist staff consists of, physical therapists, excellent chefs, and trained meditation/yoga coaches who are committed to clients' physical and mental wellbeing.
Dara believes like any person living with a chronic disorder- think of chronic pain, epilepsy, diabetes, clients must become their own experts. Therefore their topic program introduces clients to the science of addiction. DARA incorporates the growing area of neuroscience to help them understand brain functioning and addiction. They provide them with information about other disorders, such as anxiety and depression that are almost always part of addiction. This program also works on the support networks they can establish to help them and their family in recovery.
DARA believes that clients need a chance to increase their understanding of themselves, their history and their future. Their psychotherapy program comes in two kinds: the psychotherapy group sessions offer a chance to practice healthy relationships with other people in the program, to better understand how others see them and how to communicate honestly with others. This is supported by one to one therapy sessions with their focal counselor where individual barriers to recovery can be worked on as well as any other deep-seated issues that will enhance their recovery.
Dara believes that the family has a special place in this process, they welcome family members to participate in family counseling sessions. Family members are welcome as day visitors but also have couples or siblings who have come through the program together.
DARA offers a "variable" non 12-step treatment program. This means that the length of stay is dependent on each client's individual clinical needs, progress in treatment and compliance with the treatment assignments. While 12-step can be effective for some, it is not for everyone. Dara believes that non 12-step recovery program is the best way to lead clients to a successful and addiction-free lifestyle.
DARA's "Integrated Cognitive-Behaviour Treatment (ICBT) Model" utilizes a variety of clinical interventions designed to produce positive outcomes. Counselors are expected to have experience and expertise in each of these modalities.
These clinical modalities include but are not limited to:
Cognitive Behavioural Therapy
Person-centered Therapy
Rational Emotive Behaviour Therapy
Schema-focused Therapy
Transactional Analysis
Relapse Prevention Therapy
Behavioral Modification
Motivational Interviewing
Reality therapy/Choice theory
Gestalt therapy
Psychodynamic Psychotherapy
Solution-focused brief therapy
DARA offers personalized 4, 8 and 12-week rehabilitation programs.
Cost of treatment:
US DOLLAR
28-day program $7995
8-week program $13990
12-week program $19500
Email : admissions@dararehab.com
Phone : +66 8 7140 7788
Address : 113 Moo 1, Koh Chang Tai, Ko Chang District, 23170, Thailand
Website : https://www.dararehab.com/